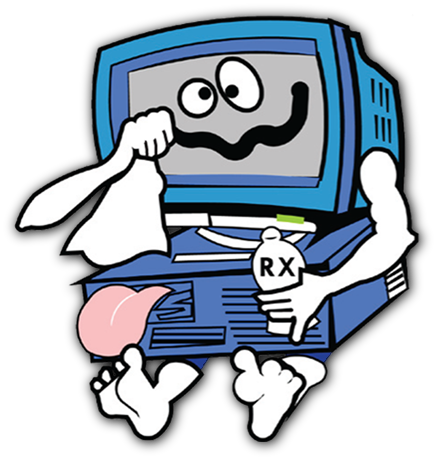 COMPUTER SPEED-UP As time passes, the speed of your computer can slow down. When this happens, what this means is that your system is taking more time to respond to your requests to open files and folders or surf the 'net.
Speeding up your computer can be time consuming and, without the knowledge and expertise of a competent technician, it may never be fully resolved.
Judson Forks is a PRO. He can show you and explain in plain words what's causing your computer to run as slow as it is.
Sometimes simply the way you operate your computer, and how and where you save your files, folders, documents and pictures can cause a slow down…
Is your Desktop cluttered with files? Has your computer has been running slower and slower?
Did you know that every time your operating system starts, your computer's operating memory accesses every file on your Desktop? If your desktop files are shortcuts, the amount of memory that will be used is small. But if there are dozens of actual files on your Desktop, they'll use lots more operating memory.
At Simple Upgrade, Judson Forks' dedication to, and concern for, his customers is legendary. He has fans from Seattle and Bellevue to Portland, from Poulsbo to Auburn…and beyond. When you call on him and get to know him better, you'll understand why. He truly cares! Helping people with their computers is his passion. He left a lucrative position to pursue it and he has never looked back.

Judson will show you the right way to save and access files while he cleans up the cluttered areas on your computer. He'll be happy to explain the simple, easy steps that you can take on a regular basis to ensure the proper and efficient running of your computer.

Contact JUDSON at SIMPLE UPGRADE - 253.250.9413 - for your COMPUTER SPEED-UP needs.
Call
253.250.9413
Computer Security In Tacoma Washington

Keeping your computer safe and secure is no easy task. There are threats lurking around every corner and on every URL. Luckily, there are plenty of tools, services, and tips that are available to help enhance the security of your home PC or work PC. Here are just a few tips you can use to beef up your computer security.

Installing Anti-Virus And Anti-Malware.

Antivirus software is a standard component of computer safety. Surprisingly, many people still don't go through the necessary steps to install a quality antivirus on their computer. They often think they won't be the target of a virus so why waste the money. The truth is that viruses don't usually have special targets. They infect any and every computer they possibly can.

Most virus attacks are triggered through email. One statistic says that one out of ever 233 emails has some sort of virus attached. You have no way of knowing which email is going to be the one to ruin your computer. The safest option is to install an antivirus program that scans emails.

Antimalware and antivirus protection are often bundled together into a single product. You have a lot of options, ranging from big name brands like Norton to smaller company programs. You are often better off with the more well-known programs because they have a larger database of known attacks, viruses, and malicious programs to scan for.

Make Sure Your Firewall Is Turned On.

A lot of people are operating their home computer with their firewall turned off. It is normally turned on by default, but some programs opt to temporarily disable it so they can better communicate with the web. For example, some online games encourage disabling the firewall while playing. The consumer then forgets to turn it back on and their computer is now in danger.

If you are operating a Windows machine then your computer already has a firewall. All you have to do is go into the security settings and make sure that the firewall is enabled. You can also check the list of exempt programs to see if any unwanted programs are bypassing the firewall.

Visit ComputerTacoma.com

Computer Tacoma is an expert in computer security. They service the Tacoma, Washington area. Not only do they have the latest in anti-virus protection, but they are willing to come to your home and install it for you. While they are there they can scan your computer for any malicious activity and remove any viruses or malware that may be present.

Computer Tacoma has been servicing the Tacoma area for more than a decade. They have encountered thousands of viruses over the years and know what anti-virus programs really work the best.

If you feel as though your computer may be infected with a virus, then you can schedule an appointment and they will perform an inspection. Computer Tacoma understands the importance of computer security. They employ computer security experts who want to work with you to get your computer secure and protected from any possible attacks.