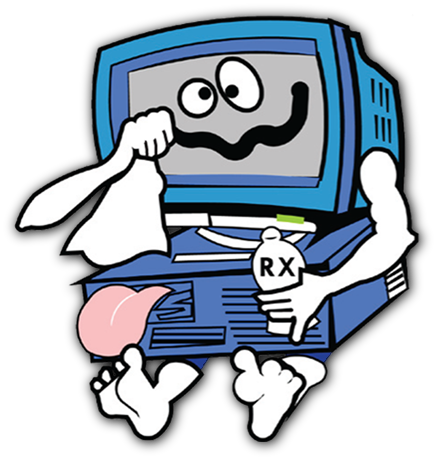 COMPUTER SPEED-UP As time passes, the speed of your computer can slow down. When this happens, what this means is that your system is taking more time to respond to your requests to open files and folders or surf the 'net.
Speeding up your computer can be time consuming and, without the knowledge and expertise of a competent technician, it may never be fully resolved.
Judson Forks is a PRO. He can show you and explain in plain words what's causing your computer to run as slow as it is.
Sometimes simply the way you operate your computer, and how and where you save your files, folders, documents and pictures can cause a slow down…
Is your Desktop cluttered with files? Has your computer has been running slower and slower?
Did you know that every time your operating system starts, your computer's operating memory accesses every file on your Desktop? If your desktop files are shortcuts, the amount of memory that will be used is small. But if there are dozens of actual files on your Desktop, they'll use lots more operating memory.
At Simple Upgrade, Judson Forks' dedication to, and concern for, his customers is legendary. He has fans from Seattle and Bellevue to Portland, from Poulsbo to Auburn…and beyond. When you call on him and get to know him better, you'll understand why. He truly cares! Helping people with their computers is his passion. He left a lucrative position to pursue it and he has never looked back.

Judson will show you the right way to save and access files while he cleans up the cluttered areas on your computer. He'll be happy to explain the simple, easy steps that you can take on a regular basis to ensure the proper and efficient running of your computer.

Contact JUDSON at SIMPLE UPGRADE - 253.250.9413 - for your COMPUTER SPEED-UP needs.
Call
253.250.9413
Computer Training Guide

In terms of computer training, an important thing for you to be aware of is that there are many free courses available for you take. Some are certifiable courses, meaning you can obtain a certificate for your training and have something to put on your resume. There are also paid courses that are certifiable as well. You may be wondering what the main differences are between paid online courses and free ones.

What we believe is that you only get what you pay for in life, and what isn't paid in money, you pay in some other way. Even with computer training this is true. We took a look at the free courses being offered online and discovered only basic courses intended for common end-users. We didn't find any advanced training courses. We are referring to things like touch typing, introductions to Microsoft Word, Microsoft Excel and Information Technology. If you are having problems with any of those programs, keep in mind that there are numerous free courses available for you to check out.

However, we offer training that is all about how to optimize your computers performance and to be aware when a virus shows up.
We'll teach you how to get into your command prompt and see what start up programs are running that could be harmful or slow your system down. We'll show you how to run your virus programs and what add-ons
you should remove from your browsers and lot more!

If you just are looking for training but don't need to be certified in a certain programming language, there are numerous training courses that are available that cost much less than certification programs do.

For each skill or programming language, you can be certain that there are numerous websites offering training that you can take advantage. However, keep in mind a program is only good when the programming language's official owners authorize it. So, whatever you end up doing, be sure that that whatever website you received your training from has this important seal of approval.

What benefits are provided by the training? The major benefit is that it allows you to accelerate your own learning process. What may have taken ten years for you to learn on your own gets shortened down to only a couple of months. For numerous works and programmers within the IT industry, having certain certified computing skills can mean the difference between having a well-paying, rewarding career and a basic job.

So get yourself trained as soon as you are ready. As we mentioned previously, there are numerous websites that offer computer training ranging from basic to more advanced courses. The first thing you should do is make a list of skills that you want to have as well as those you need. Then go visit some of the numerous websites offering them.


About Computer Tacoma:

Computer Tacoma is a computer training expert. We train you to remove viruses and optimize your computer so it performs better.