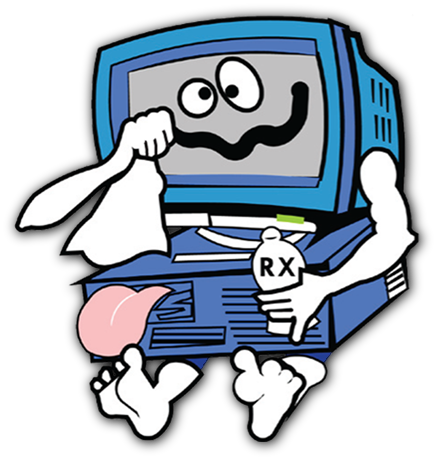 COMPUTER SPEED-UP As time passes, the speed of your computer can slow down. When this happens, what this means is that your system is taking more time to respond to your requests to open files and folders or surf the 'net.
Speeding up your computer can be time consuming and, without the knowledge and expertise of a competent technician, it may never be fully resolved.
Judson Forks is a PRO. He can show you and explain in plain words what's causing your computer to run as slow as it is.
Sometimes simply the way you operate your computer, and how and where you save your files, folders, documents and pictures can cause a slow down…
Is your Desktop cluttered with files? Has your computer has been running slower and slower?
Did you know that every time your operating system starts, your computer's operating memory accesses every file on your Desktop? If your desktop files are shortcuts, the amount of memory that will be used is small. But if there are dozens of actual files on your Desktop, they'll use lots more operating memory.
At Simple Upgrade, Judson Forks' dedication to, and concern for, his customers is legendary. He has fans from Seattle and Bellevue to Portland, from Poulsbo to Auburn…and beyond. When you call on him and get to know him better, you'll understand why. He truly cares! Helping people with their computers is his passion. He left a lucrative position to pursue it and he has never looked back.

Judson will show you the right way to save and access files while he cleans up the cluttered areas on your computer. He'll be happy to explain the simple, easy steps that you can take on a regular basis to ensure the proper and efficient running of your computer.

Contact JUDSON at SIMPLE UPGRADE - 253.250.9413 - for your COMPUTER SPEED-UP needs.
Call
253.250.9413
Computer Tacoma Home Computer Repair Company

Computers are very capable machines, but they are still prone to experiencing problems and breaking down when you need them the most. Not everyone has the skills, the tools, or the time to fix their own computer all of the time. Instead, most of us rely on professional home computer repair services to get the job done.

There are quite a few computer repair companies in the area. Computer Tacoma really stands out from the crowd. While most of these companies require that you bring your computer into the shot to have it repaired, Computer Tacoma will actually come to your home to perform the repairs.

Years Of Experience.

Experience is important when it comes to computer repairs. Technology is always changing, but some of the problems remain the same. Computer Tacoma has more than a decade's worth of experience working on computers in the Tacoma area.

They have encountered just about every problem a computer can experience and know exactly what to do. Whether it is a simple bug or a serious glitch, they have the expertise and the know-how to solve the problem. Even better, they will come to your home to fix your computer.

More Than Just Home Computer Repairs.

Computer Tacoma is more than just a computer repair company. They can help you keep your computer up-to-date with the latest software and virus protection, perform general tune-ups and maintenance, upgrade your systems, remove viruses, create wireless networks, and much more.

Computer Tune-up.

If your computer is falling behind in terms of speed, then it might be time for a tune-up. Tune-ups aren't just for slow computers either. If there are windows popping up, your hard drive is spinning loudly, or other changes are happening that are affecting your computer's performance, then a tune-up is a good idea.

Computer Tacoma will take a look under the hood and find any problems that might be slowing your computer down or causing problems. It may just be too many temporary files or it may be something as serious as a virus that is stealing your information. Whatever the problem is, they will find it and fix it.

Is It Time For An Upgrade?

Is your computer still running an old version of Windows? Are you ready to upgrade that RAM or graphics processor? There are a lot of upgrades you can perform that will allow your computer to keep up with newer, more expensive models. You don't have to replace your computer every six months. You just need to upgrade some of the components and software.

Upgrading your system can have a noticeable impact on your computer's performance. Upgrading your graphics process is important if you perform a lot of graphically intense tasks, such as using dual monitors or playing PC video games.

Best Computer Repair Service In Town

Not many computer repair companies are willing to visit your home and do all of the work on-site. Combine that with exceptional pricing and top-of-the-line services and you've got yourself one of the best computer repair services in the state.